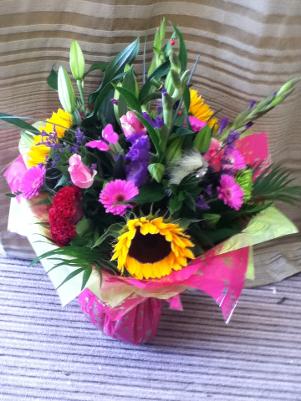 Birthdays, Anniversaries, Births and Sympathy.
For your occasional needs we offer a wide range of modern and traditional designs. Guaranteed to put a smile on anybody's face. You can choose your own colour scheme and flowers of your choice.
A few of the products we offer are listed and priced below. If there is something specific you would like you can call or pop in to our shop to see our friendly and helpful staff, who will help you to find what you want.
Bouquets: Start from £15 and can range up to a price of your choice along with colour options.
Hand Tied aqua pack: Start from £25.00
Baskets: start at £25.00
.
Vases: Small vases (traditional) from £30.00
Tall/modern vase prices start at £40.00
Arrangements start from £25.00
Phone; 01900 63727 for any inquires/orders. Card payments welcome.